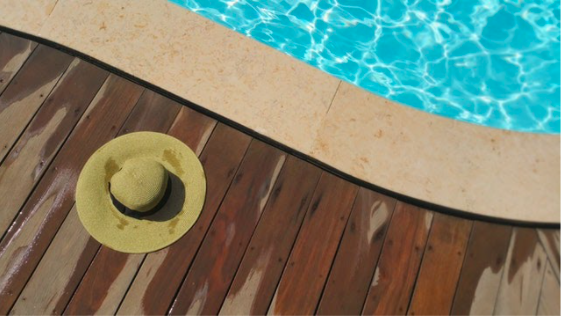 We at Paradise Pools know that inground swimming pools are typically preferred by customers. They tend to be more natural looking, hold up to wear and tear and can even increase property value. But that doesn't mean that above-ground pools don't have their benefits. In fact, there are certain situations where these pools make more sense.
Let's take a look at what situations are best suited for an above-ground pool like the Saratoga, Quantum or Sentinelle.
You're planning on moving in a few years.
If you're not expecting to live in your house much longer, it doesn't make sense to invest in an inground pool in Mississippi. Even though these pools are likely to increase the value of your home, it's not nearly as much as what you put into them. The better option is to install an above-ground pool that you can easily take down when you sell – and re-install at your new home!
You want a quick solution.
If you wanted a pool yesterday, then it may be best to go with an above-ground option. It takes an average of 8-12 weeks to install an inground pool, so this is a project you'll need to plan ahead for. Above-ground pools are sold in kits that are easily assembled. As soon as the kit is delivered, you can have it installed in your yard and begin enjoying it right away.
You're on a strict budget.
If your family loves to swim but you're on a limited budget, it may be worth springing for the above-ground pool. This way, you can start reaping the benefits of a pool right away. Do keep in mind, however, that inground swimming pools can be affordable as well, especially when you consider the value you get over the years.
You have soil and water difficulties.
Some soil types make it difficult to install an inground pool, such as areas where there is granite or sedimentary rock. High water tables can also cause a problem. A dewatering system is typically needed for these installations. If you have water or soil that is difficult to work with, it may be more practical to purchase an above-ground pool.
You want something easier to maintain.
Generally speaking, above-ground swimming pools are easier to maintain because they have less water and a smaller size. If you're looking for simple swimming pool maintenance, an above-ground pool is the better choice. That said, inground pools are easy to keep clean because of the larger, more effective equipment. And, you can always hire a pool maintenance company to help out!
There are clear benefits to both above-ground and inground pools. But, some situations make more sense with an above-ground pool because of the ease, speed and practicality it offers. To learn more about your options for both above-ground and inground swimming pools, contact Paradise Pools today.