Bromine
Why use Bromine?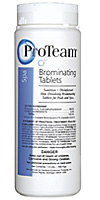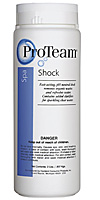 Most spa owners like it better because of the benefits of it. Bromine is a chemical that is closely related to chlorine; however there are a few differences between them that make bromine a little more user friendly.
It lasts longer in higher temperatures
Bromine has fewer odors
It is also more gentle on skin, eyes and equipment
You can use fewer chemicals with Bromine
It's easy to use!
WHY??
Once in the water Bromine kills very similarly to chlorine, with one BIG exception. When chlorine kills it leaves behind a waste product (known as chloramines) which smell bad and must be burned off or oxidized. Where as bromine leaves behind no waste product, but instead its by-product (known as bromimines) continues to sanitize, have little to no odor and can be reactivated by means of a simple shock treatment.
The most popular form of Bromine used in the spa industry is bromine tablets, making this system very easy to use. Tablets are placed in a floating feeder usually inside the filter compartment.
So what does all of this mean for you? Simply put…More Time!!!
Using a Bromine System in your spa can be done in 2 easy steps.
Step 1 – Add Bromine Tablets to a floating feeder once a week.
Step 2 – Spa Shock to oxidize the contaminants that the Bromine has killed. This is usually added a couple hours before or immediately after use of the tub.