Our Products
Some of the fondest memories a family can have is to spend time together around their very own swimming pool. However you don't have to spend 10's of thousands of dollars to get that enjoyment. An above-ground pool can accomplish many of the same things as an in-ground pool for much less. In addition, depending on the above-ground pool you select, it can provide decades of pleasure for the family with minimal maintenance. Still there are things you should know before purchasing an above-ground pool in the Jackson, MS area.
Instant family pleasure right in your backyard. Plus a great way to exercise or just sit back and relax. An in-ground swimming pool can be many things to many people. However, not all pools are constructed equally. And building a pool in the Jackson MS area can be challenging due to our soil conditions. Let us show you what we have learned over more than 30 years in this industry.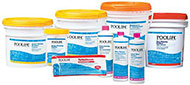 From start up to shut down we've got you covered. We offer a variety of different pool care systems. From the time-tested to the latest technology, we know what works in the local Jackson Area. And we'll help you find the one that best fits you. All of our products have been locally tested to make sure they're safe, easy to use and effective. Bottom line: Pools should be fun, not work. And with the right maintenance system, they will be. With the help of our friendly professional staff we will make your pool "More Fun…Less Work!"
For a pool to be fun and less work, you must have reliable, trustworthy equipment. With great effort and personal experience we are able to offer you the best of the best. From pumps and filters to brushes and nets, we've got everything you'll need for your swimming pool.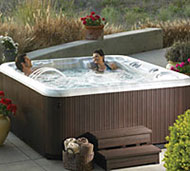 Find the ultimate expression in relaxation and therapy. Customer experiences tell us that a spa in your very own backyard is the perfect way to relax and relieve stress, get relief from the aches and pains of arthritis, fibromyalgia, and other ailments, as well as reconnect with family and friends. With a variety of different brands, there is a spa that fits everyone's want, needs and budget. Let us help you find the perfect spa for you.
When it comes to spas, we like to change our motto just a little bit. Instead of "More Fun, Less Work" our philosophy is "Soak More, Work Less!" To accomplish this we currently offer at least 4 different spa care systems that we believe to be the easiest, most simple and affordable way to take care of a spa. Let us help you find the system that will work best for YOU!!
Is your spa cover too heavy? Does it need a lift? Well we've got them. If fact, we have all the accessories you will need to make your hot tub experience the best possible: Cover Lifts, Side Tables, Booster Seats, Exercise Equipment, Filters, Hydra, etc. We even have a hard cover that is customized to fit any major hot tub brand. It will support 800lbs and is said to be the last spa cover you will ever need. Let us help you accessorize your hot tub!
Bringing you the small things that make a big difference,
as well as the big things that make all the difference!