Salt Systems
The Confusion
It all started years ago when salt systems first hit the market. "Put this system on your pool and NEVER ADD CHEMCIALS AGAIN," many were told. However, this is FALSE! Every salt system's manufacturer states in their owner's manuals that PROPER WATER BALANCE IS KEY to making the system work properly and provide you years of service. Simply put…without the addition of balancing chemicals and proper cleaning of the salt cell, the system will fail quickly (usually with in a year or two), resulting in needless repair and expense.
Therefore, our goal is to provide you with a quality salt system and educate you on how to care for it and your pool with ease. We will make your pool more fun….less work!
Hayward Aqua Rite Salt Chlorination Systems
The Aqua Rite Salt System is made up of two parts…
The Turbo Cell and the Control Panel.
The Turbo Cell comes in 3 different sizes for inground pools (40,000/25,000/15,000 gallons.) The three sizes enable you customize your salt system to your pool, allowing for the most efficient and cost-effective chlorination possible.
The control panel is designed to monitor and control chlorine production. This panel will allow you to check you salt level, set your chlorine production level, super-chlorinate when necessary, and let you know when your cell needs to be serviced or salt needs to be added.
Not only will the Aqua Rite System provide you will complete sanitation the easy and efficient way, but it will also conserve energy and save your cell life. Each salt cell has a rated lifespan; many are rated for 10,000 hours of running. This being said most salt systems have a way of setting the strength of your chlorination, normally allowing you to set it on anywhere from 10% to 100%. Most salt systems on the market today will operate like in a way that if the dial is set at 50%, the system will run continuously and generate chlorine at half strength. Which means your cell is running 24/7 no matter what you set your generation level is set at. Thus burning up the life on your cell. The Aqua Rite system however runs on a 3 hour rotation. If you set your dial at 50% the system will run and generate full strength chlorine for 1 ½ hours and then shut off for 1 ½ hours. Thus saving the life on your cell and saving electricity.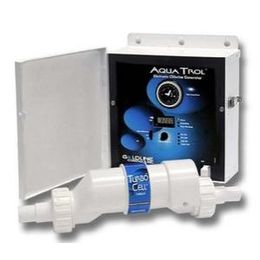 The Aqua Trol System is above-ground pool version the Hayward brand salt systems. The Aqua Trol includes the Salt Chlorination unit, an 18,000 gallon Turbo Cell and a plumbing kit.
For more information please visit hayward-pool.com or call us for a quote for your pool.