Pool Safety Covers
Which pool cover would you rather have in your backyard?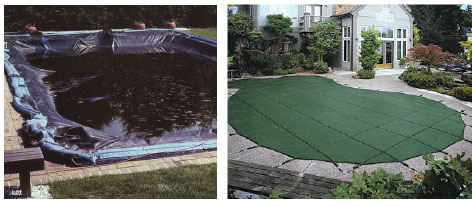 Finally, a pool cover worthy of being on any pool and in every backyard. What makes it so great?
Handles all weather conditions
Holds up under all type of debris and leaves
Keeps children and pets safe
Makes spring cleanup a breeze
Average Life Span of over 10 years
Easy shut down and start up
The trick to shutting down a pool is waiting until the water is the right temperature. If the water is too warm covering the pool will only make algae grow at an accelerated rate. That's right, today's algae does not require sun light to grow. Much of it thrives in dark, wet places. Therefore, most pool owners in the south have to wait to close their pools until October, November, and sometimes even December. And even then they could still open up to a green pool depending on what the weather does during the winter.
With a Safety Cover from Paradise Pools and Spas, your pool can be closed at your convenience, regardless of the weather. The beauty of this cover's designs is that your pool can run periodically under the cover allowing you to treat it chemically as needed and keep it clear year round with little effort. And when you open up in the spring, your water will be clear with only minor pool cleaning needed.

Weather Proof
Our safety covers are made of a non-corrosive material designed and tested to resist wind, sun, snow, ice and the chemicals in your pool. And its low profile and custom fit design provides maximum wind resistance.
What does this mean for you?
Simply put, this cover will last you ALOT longer. Customer feedback tells us the average life of our Safety Covers is 10-15 years. You won't have to worry about the wind blowing it around during a storm, the sun baking it and making it brittle, the chemicals in your pool bleaching the color and eating holes in it, even with ice and snow you won't have to worry.
Child/Pet Proof

Our Safety Covers are made from the strongest material in our industry, with 4,000 lbs of break-strength. This is accomplished by combing superior threads, mesh material, and strap composition. It's simply the strongest, most durable safety cover on the market. Thus no child or pet can enter your pool when its covered. In fact, you could walk across the entire pool, and only get your feet wet.
Guaranteed Warranty
Your Safety Cover comes with a 12-year warranty!! No fancy languages, no hidden clauses.
For pricing information please contact us and provide the following information:
Size and Shape of Pool (Is it a Free Form Pool Shape?)
Inform us of any walk-in steps, any non-removable handrails or ladders, or any other obstruction within 1' of the pool walls. Examples of obstructions:

Raised Walls
Waterfalls
Spill Over Spas