Spa & Hot Tubs
Have you ever had "one of THOSE day"? All of us have. That's the whole premise behind one airline company's tagline, "Wanna get away!" Well what if you could "get away"…… for a few minutes …….every single day…. to relax, recuperate, de-stress, or re-connect with your family?
What would that be worth?
Well, you can do just that…
In your own back yard…
Soaking in the hot, soothing waters of Hot Springs Spa.
Why Hot Springs? It's simple….they make every day a little bit better while not making you WORK for the experience.
Many of our customers have told us they experience such great relief from their spas they cannot imagine living without them. Realistically, that's what spas should do. They should be the center of a changed lifestyle. They can provide you with a measured relief from arthritis and other pains if used regularly. They can help you sleep better. Spas can actually relive stress, providing the body with needed relaxation, both physical and mental. In addition, a spa can actually become a place to reconnect with your family, a place to discuss the day activities, and open up new discussions and dialogue with your spouse and children. And some have even found they have reconnected with nature, taking their stress relief to even greater levels. All of this is possible through the use of spa because of the therapeutic nature of water and the wonderful advances that Hot Spring has made with their jet technology.
What is equally as impressive is that Hot Spring has found a way to make the ownership of a spa less work than it has ever been before. From energy efficiency to maintenance, they have it covered. Once on a good schedule, you will find as a rule that you spend more time IN your hot tub in single session, than working on your hot tub all month. (This, of course, is a general rule. But one the far majority of our customer have found to be true.)
Our company has been providing hot tubs/spas for the Jackson Metro area since 1980. There is no better hot tub experience than what Hot Springs offers in their collection of spas. And the manufacturer of Hot Spring Spas offers this at every level. Starting with the very best in the Hot Spring Highlife Collection, followed closely by the Hot Spring Limelight Collection. The next offering is the very reasonably priced Hot Spot collection. And finally, the Plug-N-Play models are offered in the Free Flow Spas.
Below you will find a brief description of each collection and links where you can find out more about them. Many of these models are on display in our showroom. Please come by and take a look. We realize that everyone has their own set of needs and we would love the opportunity to help you find the hot tub that is right for you.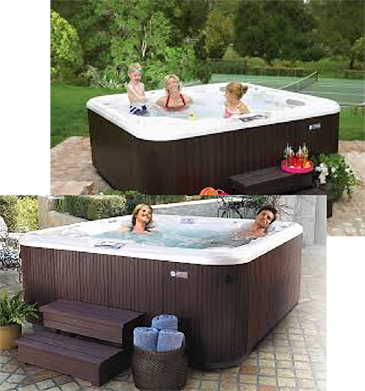 Highlife Collection
View Highlife Collection
The Hot Spring Highlife Collection is designed to give you the absolute best. These spas have been the focal point of our showroom for well over a decade, and for good reason.
The Highlife Collection is sponsored by the National Sleep Foundation and the National Arthritis Foundations because of their Unique patented Hot Spring Jets. The filtration and heating systems used in these spas are unparalleled in the industry and are designed to save you time on maintenance and money on electricity. These and other features make this spa maintenance friendly.
If you're looking for a quality spa, a spa that will focus on your needs more than its own, and a spa that brings joy, stress relief, pain relief and much more to your life…then look no further than the Hot Spring Highlife Collection.
Limelight Collection
View Limelight Collection
Limelight Spas deliver high quality and high performance with a certain flair all its own, while also keeping your budget in mind. The contemporary style and lighting system certainly unique. However, it's what's underneath that really counts.
Many of the components underneath the cabinet of Limelight Spas are the same components that are underneath the cabinet of the Highlife Spas. Thus they too are easy to maintain and cost efficient.
So let's say that quality is very important to you, but cost is right up there with it….then the Limelight Collection may not only match your tastes but your budget too.
Hot Spot Spas
View Hot Spot Collection
Hot Spot Spas are designed to deliver excellent quality features, ease of care and energy efficiency all wrapped up in an affordable package that fits your budget.
Hot Spot Spas feature an outstanding heater, control system and customizable jets which are all there to make taking care of and using your spa easy, simple and relaxing.
Free Flow Spas
View Free Flow Collection
Free Flow Spas are a brand new line from the makers of Hot Spring Spas and offer the best combination of features and price of any hot tub brand on the market today. Their simple PLUG-N-PLAY Technology allows you to fill it up, plug in to your nearest 110v outlet, and enjoy…no special wiring or dedicated outlets required. With features such as ozone, waterfalls, lighting effects and energy efficiency you won't believe the super budget friendly prices!