Spa Accessories & Covers
Have you officially become a "hot-tubber", someone who thoroughly enjoys the benefit of regular hot tub use? Well, there are a number of spa accessories than can enhance your hot tub experience. Take a look at a few of the most popular items used here in the Jackson, MS area.
Items on this page
First the Necessories (Things you really need)
Spas Covers
Spas covers are definitely a necessity. They keep the heat in on those cooler nights, lower your electric bill and keep debris out. Despite the fact that all covers are not created equal, they do typically fall into two categories:
Click on each to find out more.
Something to consider when purchasing a spa cover:
Certain manufacturers have trademark features on their spa covers. Hence there are "generic" spa covers and "brand name" spa covers. One thing that will determine which type of cover you need is whether or not your cover has a cover lift installed. If you have a cover lift specifically designed for your brand hot tub, then that brand name cover may be the only option. However, if your cover lift is "generic" (able to fit most hot tubs), then a "generic" spa cover may work just fine.
Basic principle:
Generic lift = generic cover
Brand name lift = brand name cover
No Lift – Customer Choice
To determine the type of spa or cover lift you have, call us for tips, 601-932-7665.
Cover Lifters
Cover lifters make it quick and easy to lift your hot tub cover off and on. Our cover lifters also help extend the life of your cover by reducing wear and tear. 
BRAND NAME LIFTERS
We offer many lifters designed for your spa. We consider these lifts to be the best on the market in quality, performance and longevity. Take a look at your options.
CoverCradle® Cover Lifter
Slipping into your spa is easy with the CoverCradle system. Featuring dual pneumatic gas springs and ultra-smooth gliding action, this cover removal system fits snugly on your spa and takes up little room. Requires 24″ clearance.
CoverCradle II Cover Lifter
The second generation of this innovative system, the CoverCradle II features a single pneumatic gas spring that makes covers easy to lift with little manual effort. Requires 24″ clearance.
UpRite® Cover Lifter
Ideal for limited clearance applications like decks and gazebos, UpRite® allows the cover to fold back behind just above the spa bar top to maximize clearance while creating a convenient privacy barrier. Requires only 7" clearance.
GENERIC LIFTERS
Paradise Pools and Spas also offers generic lifters. Theses lifts can be used with most spas and spa covers. However, be aware that most generic lifts are not as well made as the brand name lifts.
CoverMate II
These models allow the open cover to rest lower against the spa for a slightly less-obstructed view. Depending on the mounting system, the CoverMate II can be screw-mounted low on the spa, or simply slid underneath for spas with weaker skirts using the optional Understyle bracket system (sold separately). Requires just 18 inches of clearance behind the spa.
Other models are also available.
Need More Information?
If you have any questions about our spas or accessories, contact us at 601-932-7665 and we will be happy to help.
Filters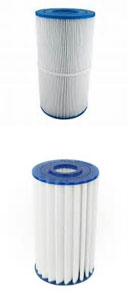 Every spa is required to filter water. Some spas even have multiple filters for increased water quality. These filters are meant to be cleaned periodically. The more often they are cleaned, the longer they will last. But eventually, usually every 1-3 years depending on filter type and quality, your spa filter(s) will need to be replaced. Bring you old filter cartridge into our store in Pearl, MS and we will be happy to get you a replacement.
A couple of things to keep in mind:
Each spa manufacturer (and there are over 200 of them) use different sized filters. Thus it is impossible to keep them all in stock. Still we do our very best to keep the most popular available. Of course we can always find the one that fits your spa and have it in stock in just a day or two.
Not all filters are created equally. Just because they look the same doesn't mean they are made the same. Some filters have a heavy paper content. Others are a blend. And still others a heavy polyester. Still others give you 3D filtration. The type of filter you purchase will directly affect how often they require cleaning and how long they will last. In addition, not all filters are compatible with all spas.
If you need help figuring out which type and size of filter you need, give us a call at 601-932-7665.
Spa Steps
32″ Everwood® Step
Made from rigid polymers, this heavy-duty, wear-resistant step makes it easy to step in and out of your spa. Designed to match the Everwood cabinet, this step features rich colors and a natural wood appearance. Available in Grey and Espresso and coming soon in Teak
32″ Polymer Step
This spa step is both affordable and lightweight, but by no means flimsy. This proprietary design is durable to withstand mother nature. As an added benefit, if the step does need to be replaced, it's 100% recyclable. Available in Grey and Espresso.

Now for Accessories (Thing you really want)
Spa Caddy
A Handy, Safe Place to Put Cell Phones, Beverages and More
Sturdy and versatile, the SpaCaddy is a perfect solution to an age-old problem for spa users. Now all of that stuff — from food and drinks to reading materials and more — can be placed within easy reach. Makes a great gift for spa lovers!
Features & Specs
Sturdy reinforced resin polymer tray on an aluminum post
Swivels toward and away from the spa for easy access
Uses one composite mounting bracket with eight screws
27 inches long x 19 inches wide
Quickly mounts on almost any spa
SmartBar
Convenient and Secure Storage Just Over the Edge
The SmartBar comes standard with our SmartDrawer for convenient, secure storage. The SmartBar features a slip-resistant tread to keep valuables from shifting. Customers can safely put drinks, phones and spa accessories within arm's reach with the SmartBar.
Features & Specs
Comes standard with a SmartDrawer
Slip-resistent surface
Installs quickly with two mounting brackets
39 inches long x 14 inches wide
Designed as a removable or permanent bar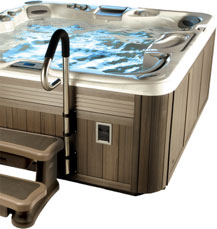 Safe-T-Rail
Get a Grip on One of the Best Spa Accessories Available
The combination of water and slippery surfaces makes every spa a potential hazard. That's why we invented Safe-T-Rail. We believe this product has more upside sales potential than any other product we offer. Don't let a single customer-young or old-leave your showroom without considering a Safe-T-Rail for their spa.
Features & Specs
Ultra sturdy construction
5-minute installation
Two composite mounting brackets with 8 screws each
Slip-free, black foam grip
Mounts on most above-ground spas
Available in polished stainless steel and rust-free powder-coated aluminum
Safe-T-Rail II
The best hand rail on the market when an alternative to cabinet mounting is desired
Offering the same great look and performance as the Safe-T-Rail, but equipped with its own built-in, slide-under-the-spa stand, making installation and display a snap.
Features & Specs
Ultra-sturdy design
Available in polished stainless steel or rust-free powder-coated aluminum
Works with most above-ground spas
5-minute installation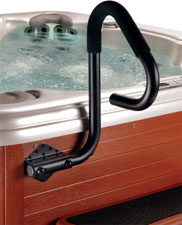 SmartRail
The Hand Rail that Even Works on Recessed Spas
Regardless of a spa's configuration, SmartRail makes entry and exit much safer. A rotating mounting bracket accommodates recessed spas as well as freestanding units. No spa should be without this important accessory.
Features & Specs
Rust-free powdercoated aluminum
Single, corrosion-free rotating bracket with 12 screws
10-minute installation
Slip-free, black foam grip
Mounts on almost any above-ground spa
TowelBar
The Smart, Convenient Way to Keep Towels Close, Clean and Dry
TowelBar is one of those deceptively simple products that makes all the difference in spa convenience. It holds towels a short distance away from splashing water and steam and conveniently folds flat against the spa side when not in use.
Features & Specs
Folds flat or opens away from the spa to keep towels dry
Easy installation
Water Brick Water Seat Spa Cushion and Hot Tub Booster Seat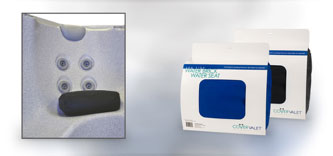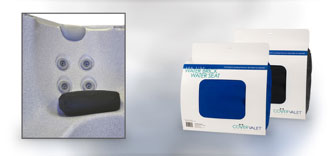 The Water Brick Water Seat doubles as a more comfortable spa seating alternative while increasing the seated height for shorter spa users. Made of pvc coated vinyl the Water Brick is well suited for the spa environment. At over 4″ thick the water seat offers a great deal of comfort when compared to sitting directly on any spa surface. To ensure the seat sinks into place, a removable pouch has been included which can be filled with marbles or washed pea-gravel to increase the weight and/or height of the water seat. The spa experience is meant to be relaxing, let the Water Brick complete the experience.
Water Brick Water Seat Features
Provides added comfort for the spa experience
Available in Blue or Black
PVC coated vinyl construction w/ foam cushion core
Safe for use with all spa chemical systems
Removable pouch can be filled with marbles or washed pea gravel to further increase the weight or seated height of the water seat
Product dimensions – 15″ x 12″ x 4″
Spa Fragrances
Indulge yourself with the enlivening blend of sensual aromas and moisturizing botanicals. Here's just a few of the benefits:
Contains Aromatherapy Crystals to create the mood, arouse emotion, and allow your mind to relax.
Acts as an Anti-inflammatory and stress reliever due to the all-natural spa & bath crystals contained within.
Spa safe & Oil-Free
Your favorite scent awaits!