Construction
Pool Construction – Vinyl Liner, Fiberglass & Gunite
Here you will find general information about swimming pool construction and some tips for finding the right builder for you.  For some detailed information about each type of construction, click on the following links:
Having a swimming Pool in the backyard can produce some of the fondest memories you and your family will ever have. However, let's be honest, we have all heard the horror stories too, both during the building process as well as ownership. Still, there is a way you can make your pool ownership a good experience, both during the building process and beyond?
It starts with choosing a builder you can TRUST! We learned that the hard way. (See our story in "About Us".) However, our experience has taught us some valuable lessons that help us help you. We know what customers expect because of the way we got into the pool business (repairing our own pool built by a company who portrayed themselves to be professional but proved to be unscrupulous and unreliable.)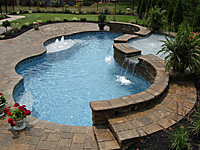 What truly makes us different is the desire to listen to your vision of what you want your swimming pool and backyard to be and then explain your options to help you bring that vision to life. Most builders and contractors simply ask things such as: Size of pool? Diving board? Slide? Salt system? Etc. Then they give you a quote using the least expensive (which usually means cheapest) equipment and products available.  Yet you have choices that significantly affect the maintenance and future cost of your pool.  Ask about equipment details!
Consider this:  Would you buy a car without knowing the make, model, year, mileage, etc?  Of course not.  Buying a pool without knowing the details of its structure, equipment and features would be more problematic.  After all, you can always sell or trade a bad vehicle.  But you can't get rid of a bad pool nearly as easy.  You could be stuck with significant problems for a very long time.  So ask for the details!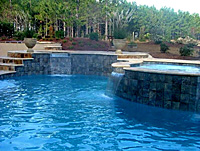 Here's an example.  Pool pumps are no different than any other product.  There a cheap ones, decent ones, good ones, even better ones, and then there are the best ones.  You have choices.  And this choice can cost you now, or it could cost you more later.  Currently, all new construction requires a variable speed pump.  And, as stated, not all variable speed pumps are the same.  It is true this type of pump should save you in electrical cost.  However, choose the wrong one and you will have significant repair issues.
Other questions to ask:  How is the built built?  What materials are used to build the pool?  Vinyl liner pools can use wood walls, steel walls, concrete walls, or polymer walls.  And, YES, it makes a difference.  Gunite pools can be different thickness and contain more or less steel than others.   And Fiberglass pools have similar differences.  (Click on links for more info.)  So ask questions!  You deserve to have the information about the components used to build your pool so you can make good decisions for your family.  And we are here to offer that information.
However, information about components is just one thing that makes us different.  The building process is even more important.  There are so many things in the construction process that set us apart they simply can not be discussed in this forum.  Builders make many choices unknown to the customer.  And these unknown choices can affect the entire future of the product.
To state it simply, just because two pools have the same, exact components does not mean they are built the same or that they will cost the same.  Most builders do not discuss all the decisions they make when building pools.  Instead builders usually chose the least expensive material or least expensive way to accomplish a task.  And yet, what saves them  money during the building process could cost you money each and every year you own that pool. That again is what makes us different. And we are happy to discuss the building process with you.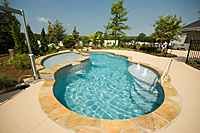 What is more, many of those horror stories you hear are due to poor education after the pool is built. In order to overcome this problem, we not only offer a thorough on-site orientation after the construction of the pool is finished, but we continue your education in-store. There we monitor your progress and help you develop a simple, solid routine that will ensure your pool memories are always fond ones thus making your pool ownership a success.
Remember, our motto is: "More Fun, Less Work". We will do our best to make sure your pool stays that way.
Call us, come in, or click here to schedule an appointment. We will be happy to discuss the best type of pool for you and your family. And don't forget to check us out on Facebook and Twitter.
Ways to Customize Your Pool:
Fountains/Water Features
Spillovers
Tanning Ledges
Spas
Slides
Diving Boards
Diving Platforms
Diving Platforms with Fountain
Steps/Swim Outs
Ladders/Deck Equipment
Lighting
Deck Finishes
Deck Design
Energy Efficient Pumps
Heaters/Heat Pumps
Cartridge Filters vs. Sand Filters
Salt Chlorine Generators
Mineral Systems that Reduce Chlorine Consumption
Non-Chlorine Sanitation Systems
Automation/Time Clocks
Automatic Pool Cleaners
Brick Accents
Stone Accents
For some detailed information about each type of construction, click on the following links: