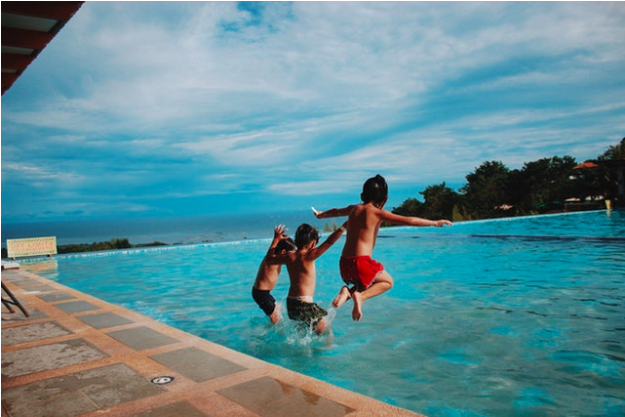 Remodeling your swimming pool doesn't have to be a huge investment. While most pool owners would love to do a complete overhaul, it's not in the budget for most. Luckily, there are dozens of ways you can give your swimming pool a new look without dipping too far into your bank account. Remember, you don't have to do everything in one season. Take your time making the updates, and take advantage of sale prices that happen in the fall.
Here are a few ways to remodel your pool on a budget.
LED Lighting
Nothing brings a new look to something like the right lighting. It's fast and affordable to install, and you can customize the look to your exact liking. Choose simple, sophisticated white lights or opt for color changing lights that feature fun colors like pink, green and blue. We recommend LED lights because they are efficient and you can put on a light show for your summer parties.
Waterline Tile
Waterline tile can give your inground pool an entirely new look, and the upgrade is usually under $1,000 for an average size pool. Ceramic tiles are most economical, but if you wanted to push the limits, you could consider glass and other decorative tiles. Waterline tile is best installed when resurfacing your pool.
Tanning Ledges
Tanning ledges, or baja steps, are large, flat surfaces inside the pool. They are popping up in resorts because they provide a refreshing spot to place a lounge chair, but they make great additions to personal pools as well. Like new waterline tile, this is a project that's not worth making unless you're planning on resurfacing your pool. This way, everything can match.
Water Features
For a quick and easy revamp that doesn't require resurfacing, aim for water features. Some are more expensive than others, so let your budget lead the way. If you're looking for something fun and inexpensive, try bubblers with LED lights or light streamers. Other options include rock waterfalls, water bowls, deck jets and wall streams. The possibilities are endless!
Plants and Shrubs
Sometimes, it's what's around your pool that needs the most attention. If your pool is bare, add some beauty and privacy by planting the right shrubs. Agave, aloe and yucca require little maintenance and have few debris. Plus, they love the heat and grow in full sun.
Furniture and Grill
Is it time for new outdoor furniture or a grill like The Big Green Egg? One of the best ways to get more from your pool is by making your outdoor space functional. A new fire pit, grill and outdoor seating instantly transforms your patio into a backyard retreat. A few other touches include hooks to hang towels and a storage bench to keep pool toys.
You don't have to spend a small fortune to dress up your swimming pool. A few simple changes can make a difference in how your pool looks and the way you use it.