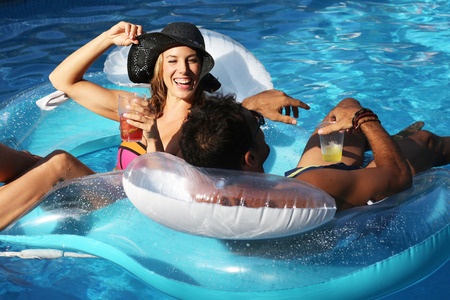 If you're hoping to get more use out of your swimming pool this year, why not throw a pool party? You don't need an excuse to throw one. It's summer, and that's enough of a reason in our book! But you can also turn someone's birthday, graduation, retirement or anniversary into a pool party.
Here are six tips that will help you throw an epic pool party that everyone will be talking about!
1. Start with a Theme. This way, it will be easier to plan the menu and decor. Some of the most popular pool themes include Hawaiian Luau, Surf's Up or Inflatables. Or you can stick with traditional 2016 graduation decor or brightly colored birthday decor.
2. Send Out the Invites. You can mail out traditional invitations or simply email everyone an e-vite. Let your guests know that you are having a pool party and that they need to bring a bathing suit, a beach towel and sunscreen. It never hurts to have extras on hand, though. It's amazing how many people forget!
3. Decorate Your Poolside. Now it's time to start having some fun! Hang paper lanterns or a string of lights around your pool for color and ambience. Set out inflatable palm trees and tiki torches (they look cool and can keep pesky bugs away). Drape beach towels over your chairs, arrange citronella candles on the tables and play some summery music.
4. Pool Activities. It's a good idea to have some pool activities on hand that encourage everyone to enjoy the water right off the bat. Kids are always the easiest to persuade, so toss in some inflatable toys or diving rings. If you're having a birthday party, you can always toss balloons into the water, too!
5. Serve Food and Drinks. Adults take a little longer to warm up, so don't be surprised if they hover around the food and drinks before going for a swim. The nice thing about summer is that you don't have to serve a complicated menu. Snacks and appetizers are perfect, as well as burgers, hot dogs and brats. Don't forget some alcohol-free options like fresh iced tea or lemonade!
6. Get the Goods. Have the essentials on hand just in case your guests forget to bring them. Things like bug spray, sunscreen and a first aid kit are important and can make it easier to enjoy the outdoors. Another nice thing you can do for your guests is provide them with plastic bags to put their wet stuff in.
Summer is finally here, and it's time to make the most of the best months! Make your summer one to remember with an epic pool party!