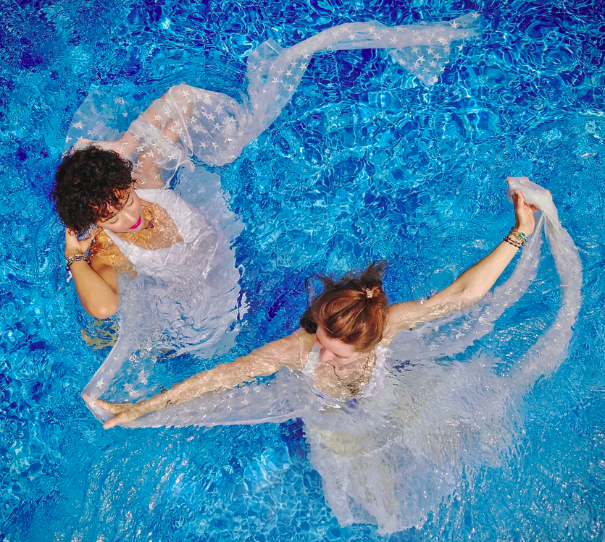 Hot summer days are the PERFECT time for fun by the pool, especially for teens. They just adore hanging out poolside, getting in a few laughs, and spending time "chilling out" in the water with friends. That's also what makes your backyard such a compelling place to host the perfect pool party for them in the first place. From serving up great eats to keeping guests safe, these tips will help you get the next birthday, grading day party, or post-prom bash just right.
Set the Right Mood
Teens aren't kids (even if you still consider them your little ones). Skip the childish decorations (no Spongebob or Shrek unless directly requested) and aim for more mature themes instead.
Think about what your teen's hobbies include. If it's sports, throw a sports-themed party. If it's video games, use their favorite video game characters to dress up the backyard. Or, just go with simple-yet-classy options like paper lanterns or mini light strings with white LEDS. If your party is at night, a strip of strobes can be a great addition when placed in a safe area for dancing nearby.
Pick a Single Theme
No matter what colors or characters you go with, you should settle on a single theme instead of just tossing decorations down indiscriminately. Choose complementary colors, and if you include certain elements, be cautious of mixing in items that clash.
To simplify, let's say you start with an ocean theme, adding seashells along a table full of Hawaiian-themed food. Tossing in Western-themed items will feel confusing and poorly thought out; adding mermaids fits right in!
By keeping all of your decorations and offerings within that theme, your teen's party will feel more professional, more polished, and more complete – and that's sure to impress their closest friends!
Serve Teen-Friendly Finger Foods
No one wants to sit down to a five-course meal with multiple forks during a pool party. Instead, serve barbecue, pizza, or something else equally edible-on-the-run. It's up to you if you allow teens to graze or set a specific time. Serving dinner at a specific time may be better for convenience, but grazing isn't likely to cause any harm, either. That old wives tale about eating before you swim? There's really no proof it's true.
Always Include Supervision
If someone's diving in the shallows, running on slick tile, or (worse yet) diving on a nearby roof, the risk of serious harm can be extremely high. You don't have to hover, but you or some other responsible adult should supervise teens at all times when they're swimming. Remote cameras can be a great way to watch from a distance if you want to give your teen some space without jeopardizing pool safety.
Even the best parents need to take their eyes off of the party now and again; your teen should be responsible enough to know what to do if something goes wrong. This includes knowing when to say "no" to risky activities, dares, and even underage drinking. Talk with your teen before the party starts and share your expectations. Be sure they know that, no matter what happens, they can tell you if they see something they know is against the rules and you'll step in.
You might feel like the awkward, overbearing mom or dad, but their health and safety matters more! Don't be afraid to intervene if you see something that worries you; it's your property and that means it's your responsibility to keep them safe.
Need help installing your first pool? Want to improve your current installation? Contact Paradise Pools for more information.