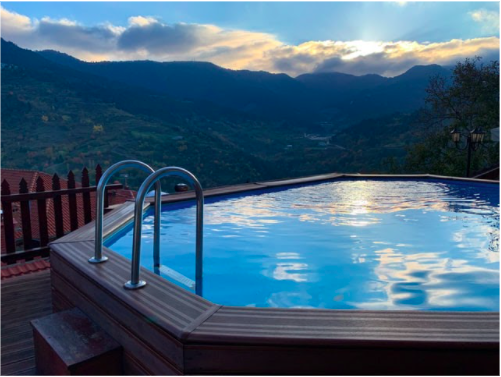 Although swimming pools come with an off-season, your hot tub doesn't have to! Unlike a pool, you can utilize your hot tub no matter what the outdoor temperature gage reads. With major health benefits, both mentally and physically, you can stay cheery during these gloomy winter months by taking advantage of all that your hot tub has to offer.
Here are five of the leading reasons you should consider using your hot tub year-round.
Melt Stress Away
It's easy to get stressed during the hustle and bustle of the holiday season! To combat holiday-related stress, take regular dips in your hot tub. Soothe tense muscles and let your stress melt away with a heated water jet massage system. Heated water has also been known to activate feel-good hormones in the brain, leaving you feeling relaxed and content.
Boost Your Immune System
No one is looking forward to the dreaded cold and flu season. Even with a flu shot, a well-balanced diet and proper sleep habits, your immune system can still struggle to keep up. Thankfully, routine dips in the hot tub can boost white blood cell production in the body.
With improved circulation from the warm water, these tiny healing cells increase and are carried throughout the body where they attack germs and toxins. Therefore, soaking in your hot tub can drastically decrease your likelihood of catching a virus during the bitter months of winter.
Natural Pain Reliever
Winter doesn't just bring cold fronts – it can also make the body ache. Plus, shoveling, salting or slipping on ice can aggravate and injure your muscles and joints. Taking the time to relax in your hot tub is a wonderful way to treat any injured or sore muscles.
Also, if you struggle with arthritis flare-ups in the wintertime, relaxing in your hot tub in Jackson MS can help reduce inflammation and send soothing blood flow to your damaged joints.
A Break from the Cold
If you spend time outdoors for work or recreation, your hot tub can give you a break from the cold. After all, nothing beats slipping into your cozy hot tub for a spa jet massage after a long, stressful day at work!
Social Life Benefits
Try mixing up your traditions this year by hosting a winter jacuzzi party! You can invite others to bring games and even set up a hot chocolate stand. Your hot tub could become the tradition that everyone looks forward to in years to come.
Contact Paradise Pools today for the best prices on hot tubs and hot tub accessories to make this year's holiday season extra bright!