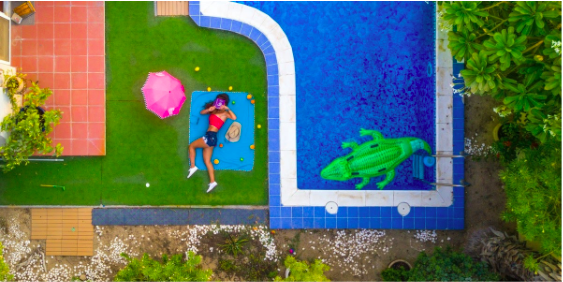 Is your pool in need of some TLC? Homeowners can expect to resurface their swimming pools every 10-15 years. But there are other things that might trigger a renovation such as needing to update lights, plumbing and aesthetics. Most pool owners look forward to giving their pools some attention – it's the time and money that these projects require that hold people back.
To ensure you're putting your money into the right features, it helps to keep up with the latest trends. Below are the different ways that people are bringing out the beauty in their pools in 2021. Hopefully these ideas will offer you some inspiration!
Water Flowing Features
What swimming pool isn't complete without water flowing features? The nice thing about these features is that they can be as simple or elaborate as you want them to be. You can choose to install a basic fountain or an elaborate waterfall. Not only will pool water features enhance your swimming pool design in Jackson but also they will improve the swimming experience.
Upgrade Lights to LEDs
Another change you can make is switching out your current lights for LED lights. LEDs look better because they tend to have a smaller footprint and streamlined design. They also have a longer lifespan and consume very low amounts of power. Better yet, many LEDs for pools change colors, giving you multiple color options in one purchase.
Replace Chlorine with Saltwater
Chlorine is still a great option because it's cheap and accessible, but we are seeing more people request saltwater because of its benefits. Saltwater is gentler on the skin and hair. It won't fade bathing suits and there is no harsh chlorine smell. And, you don't need to store chemicals when you have a saltwater pool.
Update Pool Equipment
If your pool equipment and systems haven't yet been updated, now is the time to do so. There are many newer, more efficient systems on the market today and they can help you consume less energy and decrease your electric bill. Ask your swimming pool contractor about your options for energy efficient pumps and filters, as well as solar-powered lighting.
Change the Pool Finishing
The finishing of your pool is what people see first. If it's old and worn away, it will make your pool look the same. Fortunately, you can give your swimming pool a major overhaul by changing the pool finishing. For example, if you upgrade to an aggregate pool finish – the new generation of plaster pool surfaces – you can add the look of real stone, pebbles or glass.
Paradise Pools can help you get the pool you want with the budget you have. There are many cost-effective ways to update a swimming pool while taking advantage of new technology and reducing energy consumption. Contact us today and let's explore some ideas!