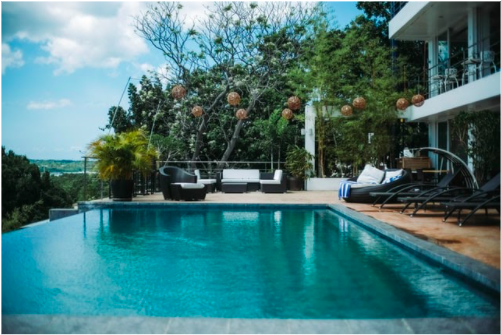 Many pool owners underestimate the power of finishing touches. For example, the type of pool finish and tiles you choose impact the look of your pool more than you realize. Since there are so many finish and tile options to choose from, it may seem like an overwhelming decision, but our swimming pool contractors in Jackson are here to help!
Let's explore six of the most popular pool finish colors, and the type of message that each color represents.
Black
If you're hoping for a sleek and modern appearance, choosing a black finish will create a dark, mirror-like look for your pool's surface. Even though it's rare, we appreciate black because it's mysterious yet elegant. This will make your pool a jaw-dropping and intriguing focal point of your backyard.
Blue
The color blue represents things like confidence, stability, and loyalty. It also symbolizes freedom and creates the perfect adventurous backyard vibe! Achieving that "true blue" look is easy when you consider tiles in various shades of blue such as sapphire and cobalt.
Grey
A grey pool carries a sophisticated look. It's the best of both worlds because it's considered conservative but also glamorous. The color grey is known to represent security and grace and is the perfect fit for a relaxing space. Also, keep in mind that there are many shades of grey to explore such as graphite and marble.
Green
The color green represents growth, prosperity and nurturing. If you desire your backyard to be a place of healing and restoration, choosing green finishing touches could be the best fit for you! In addition, green finishing can accentuate your backyard's natural environment and give a natural look to your pool as well.
Light Blue
In order to achieve a light blue pool color, it's actually best to choose white finishing touches. A light blue pool is appealing to those who are striving for a crisp, sparkling pool. Light blue represents notions such as stillness, softness and hopefulness. It also creates an ideal atmosphere for meditation and reflection.
Turquoise
The beautiful jewel-tone of turquoise represents joyfulness and [positive energy. It also symbolizes friendship and good luck, offering you and your guests a sense of clarity and emotional balance.
So which pool color do you feel best represents your desires for your backyard? Your backyard is a canvas, so feel free to be as creative as you'd like when it comes to your pool's finishing touches! Contact Paradise Pools to discuss your need for pool remodeling in Jackson MS.