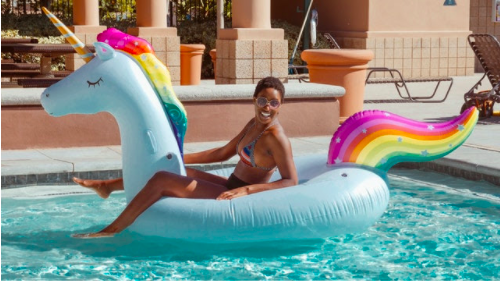 Pool parties are a great way to end the summer, and there's no better holiday for a big party than Labor Day. This unofficial kickoff to fall is the last chance to grill up some burgers and hot dogs, play Marco Polo in the swimming pool and roast s'mores under the stars. Once Labor Day passes and the kids are back in school, summer quickly fades away, even though warm temps often stick around.
If you're planning on having a pool party for Labor Day, here are some tips to help you plan something epic.
Choose a Fun Theme
Selecting a pool party theme sets the stage for your party vibe and decor. Just about any pool theme has room for outdoor lighting, palm trees and leis. Here are some of our favorite themes to choose from:
Red, white and blue
Beaches, sand and shells
Caribbean vacation
Luaus and tikis
Foam party/bubbles
Mermaids
Pirates
Sharks
Pick a Coordinating Menu
No pool party is complete without food! You can go the traditional route and grill up burgers, hot dogs, skewers or grilled fruit. Or, you can switch things up and have a sundae bar, taco bar or sandwich station. This is a nice idea because it's more hands off and you can sit back and float in your pool!
Food trucks are also huge hits, and they cover all the food. This saves you from having to shop, serve and clean up. Search for taco trucks, BBQ trucks, shaved ice trucks, etc. in your area. If you're on a budget, serve finger foods or do things potluck-style and ask everyone to bring a dish!
Make Sure Your Pool is Safe
Before you open up your swimming pool to a crowd of people, make sure it's safe. Your pool should have anti-entrapment safety drain covers, accessible rescue equipment and chlorinated water. Also, share pool rules with your guests (children in particular) before they enter the pool. This includes no running, pushing or diving into shallow waters.
Remember, as the homeowner, you are subject to legal risks if someone is injured at your home. Taking a few minutes to show that you take pool safety seriously can prevent someone from being hurt – and you from being sued.
Prepare Your Outdoor Space
Lastly, get everything in order. Put out the food, drinks and decorations. Sweep the deck and fix any issues that could be hazardous such as exposed nails or slippery surfaces. Move life rings and floaties near the pool as well.
To keep your guests entertained, be sure to offer plenty of fun things to do like:
Submersible LED lights
Color changing glow balls
Pool floats and noodles
Diving rings or sticks
Floating tiki bar
Inflatable volleyball set
Paradise Pools is a swimming pool dealer in Jackson MS. We can help you choose the best swimming pool for your needs, as well as assist with maintenance and repairs. We know how much value pools offer our customers and we hope that you have a safe and fun Labor Day weekend!