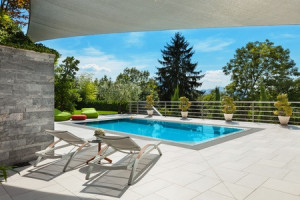 Most pool owners don't need convincing that it's time to remodel their inground pools. What stands in their way is the cost of the project and the chaos it can bring.
Many remodeling projects will put your swimming pool out of commission, and it can bring a mess to your backyard. That's why considering a project of this sort in the spring or summer doesn't make sense. Why have your pool under construction during the months that you should be enjoying it?
With this in mind, NOW is the time to consider a pool remodel. The kids are back at school and most people have either closed their pools or will be doing so soon. While it's true that your backyard might be out of sorts, it's a lot easier to handle this now than in the spring or summer. And just imagine: come next year, you will have a brand new spa to enjoy!
Let's look at some reasons why you might finally be ready for that pool remodel.
You Have Wandering Eyes
If your eyes have been falling in love with your neighbors' pools, the pools you see in magazines or the displays at the stores, it's definitely time for some change. Perhaps you've seen a beautiful new tile and you want to resurface your pool. Maybe you want to take advantage of the new features that are out there. Either way, your wandering eyes are telling you that you're not satisfied with what you have at home.
Your Pool Needs Upgrades
If you've had your inground pool for some time now, it probably lacks in the latest features. Luckily, there are many things you can add to upgrade your pool and get it looking more trendy. Water features such as waterfalls, fountain bubblers, water slides and rock walls add instant appeal. You might even want to expand your area by adding a hot tub or lighting features.
Your Pool Needs a Fresh Look
Perhaps your pool has had some new features added to it over the years, but the structure itself needs some refreshing. There are tons of choices of finish such as tile, plaster, aggregates and vinyl. Consider your geographic region, how you use your pool and its overall design elements. Paradise Pools recommends vinyl, fiberglass and gunite for Mississippi residents.
You Need Updated Safety Features
Safety precautions are a great reason to remodel your pool. You may benefit from a pool fence or a pool safety net or perhaps even a new deck area. As important as it can be to have your swimming pool look beautiful, safety always comes first. Also make sure that you have the latest anti-entrapment equipment to prevent hair, limbs and body parts from being sucked toward the drain.
Are you ready to start your pool remodel project? Call Paradise Pools today!