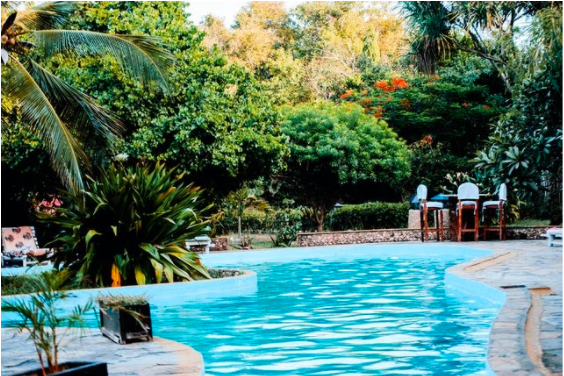 A swimming pool is a big project, so most people spend months planning out their perfect design and layout, especially if they're adding a spa, hot tub or hardscape features. By leaving yourself enough time to plan, you can actually enjoy this phase of your project. Below is your ultimate guide to planning an inground pool that your family will love for years to come.
Consider Your Options
The first thing to consider is what you want in your backyard. A swimming pool? A spa or hot tub? Both?
Your budget will influence what you can and can't have, but it's also important to assess your reasons for having a pool. Is it for relaxation? Exercise or therapy? Entertaining?
If you need a pool for exercise and therapy purposes, it may be best to install a smaller pool with a hot tub. If it's for entertaining, you may prefer putting your budget into a large swimming pool with a slide.
Pool Types and Styles
The next step is to think about what type of pool you want. There are so many possibilities, you shouldn't have any trouble finding a style that meets your taste and preferences.
For instance, infinity pools have a disappearing edge to maintain a beautiful view. A recreational pool with a zero depth entrance is great for families. Other options worth looking into are natural pools, saltwater pools and lap pools.
Pool Construction
The three main options for pool construction are fiberglass, concrete and vinyl. Each one has its pros and cons.
Vinyl. Vinyl liner pools are economical, low maintenance and fully customizable. The liners do need to be changed, usually every 7-10 years. However, some last longer than this.
Fiberglass. Fiberglass pools are more expensive on the front end, but there's no liner to replace. They're also low maintenance. Unfortunately, you're limited to the existing designs – fiberglass isn't customizable in the way vinyl liners are.
Concrete (gunite). Concrete pools offer unlimited design options. They can be any size, shape or depth. They're rugged and durable, but also most expensive to install and maintain.
Where's it Going to Go?
There's only so many places where a swimming pool can go in your backyard. Your swimming pool contractor will help with this, but here are some factors to start thinking about:
Utility lines
Overhead wires
Water tables from nearby ponds, lakes or rivers
Terrain (flat or hilly)
Easements
Setback requirements
Research protection zones
Budget and Financing
Swimming pools are an investment, so be honest with yourself about what you can afford and how you're going to pay (cash upfront, financing, etc.). Don't overlook the added costs of owning and maintaining a pool, such as insurance and pool spa chemicals.
Whether you're set on a pool style or just starting the initial planning phase, contact Paradise Pools today. We'll be happy to go over your options and the best ways to get what you want with your budget.