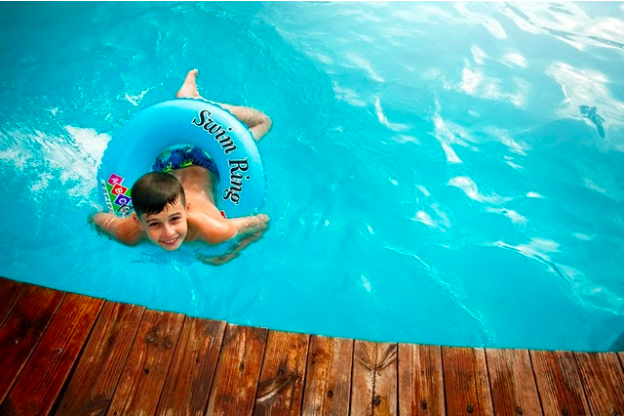 If your family has been asking for a swimming pool, an inground pool isn't your only option. An above-ground pool is an affordable alternative – and most can be constructed in a day or two on your own. Imagine – in just a few short days, you and your family could be swimming and splashing around in your very own pool! 
As you consider your options for a backyard swimming pool, you'll come across various materials – aluminum, steel and resin. Below we'll cover the considerations for each material so that you can make an informed decision for your above-ground pool. 
Aluminum 
Aluminum has become popular over the last few years because it's lightweight and maintains its strength in cold temperatures. Unfortunately, these benefits don't outweigh the one big drawback to aluminum – oxidation. The oxidation that occurs causes pitting, making the surface rough and increasing the risk for rips and tears in the vinyl liner. For this reason, we do not offer aluminum walls at this time. 
Steel
Steel is an excellent choice for above-ground pool walls because it's strong, heavy and solid. You would think that steel would be expensive, but it's actually relatively affordable. Like aluminum and other metals, the steel will eventually break down. The good news is that there are protective coatings that make steel strong and durable. Steel pool walls also tend to have good warranties. 
Resin
Another excellent option for your above-ground swimming pool is resin. With a resin pool, the walls are still made from steel, but the top rails, uprights, tracking system and caps are made from resin or resin and plastic materials. 
The benefit to adding resin is that the metal doesn't have to touch the ground, minimizing the risk for rusting and oxidation. Resin also stays cool in the hot Mississippi sun, and with the proper coatings, has extra protection from UV rays. This results in less flaking, cracking and fading. 
Build Your Above-Ground Pool Today! 
Currently, Paradise Pools offers both steel and resin pools. We sell an equal number of both, so either one will probably make a good choice for you and your family. For the reasons mentioned above, we do not offer aluminum walls. To learn more about our above-ground pool models, contact us today.