Tanning Beds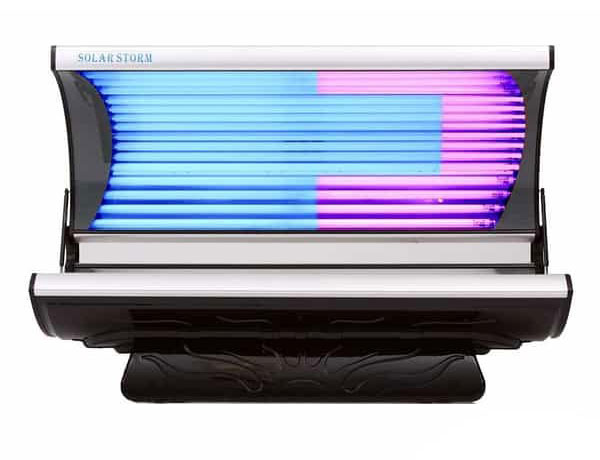 Solar Storm
Sunny Days and Relaxation, Year-Round
In North America, sunshine isn't necessarily a guarantee. Cooler temperatures and wintery weather can make it hard to enjoy the sun; even in summer, it can be difficult to enjoy safely in moderation.
Solar Storm Tanning Beds help you make everyday a sunny day by bringing the sunshine indoors. Spend just a few minutes in your new bed a couple of times a week to boost vitamin D production and potentially, even your mood.
Solar Storm: an easy, stress-free way to relax in the sun – no matter what the weather is like outdoors.
Solar Storm Tanning Beds: Safe Sunshine Enjoyment
Everyone knows that spending time outdoors can be risky. If you don't wear the right sunscreen, sunburns and skin damage can occur. Tanning beds provide a more readily controlled dose of UVA and UVB rays, lowering the risk for incidents and helping to keep you safe. You gain all of the benefits associated with spending time in the sun with fewer risks as long as you follow all safety guidelines for use.
Tanning can be a fantastic way to relax. Why not make it safer with a brand-new Solar Storm tanning bed?
Advanced Safety and Comfort Combined
Solar Storm tanning beds are built to extremely strict specifications that ensure maximum comfort and enjoyment without putting you at risk. High-output lamps boast incredible energy efficiency despite the fact that most models provide a larger tanning surface than nearly any other brand. Exposure time is minimized, further reducing any associated risk to improve your experience.
At Paradise Pools, we care about your safety – and so do the designers at Solar Storm. We're proud to share that Solar Storm tanning beds provide one of the longest extended warranties in the tanning industry.
Maintain Your Tan In Minutes
Whether you are installing a Solar Storm Tanning Bed at home or in a salon, this brand helps you hasten the time needed to achieve results. Most models boast an approximate tan time of around 15 to 20 minutes; some demand even less time than this. Fully-adjustable controls give you the power to practice safe tanning at all times, no matter who's stepping inside. All models have protective UV shielding from durable acrylic material, too, ensuring the ultimate protection and comfort.
Discover how easy home tanning can be with Solar Storm. Contact Paradise Pools now to choose your favorite model.