Easy Maintenance
You buy a hot tube to relax and relive stress…so you shouldn't be stressed out about taking care of your hot tub. Constantly adding chemicals, draining your spa every 3-4 months, worrying about replacing this part or that part…it will drive you insane!!
Hotspring Spas make it easy to care for your hot tub. These are a few reasons why….
Continuous, No-Bypass Filtration
This means that all of your water passes through your filter before it returns to the spa. With other spas, water can bypass the filter and be redirected straight into the tub without being cleaned. So what does Hotspring's Continuous No-Bypass Filtration mean for you? You get clean, filtered water all the time, and you'll only use half the amount of chemicals as the other guy.
Ozone System
All Hotspring Spas come standard with the FreshWater III High Output Ozone System. This helps purify your water even more to greatly reduce the amount of chemicals used in your spas. Unlike UV bulb or CD chip ozone systems, it functions for years with virtually no maintenance required and is far more powerful.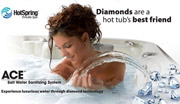 Water Care Systems
Hot Spring Spas has revolutionized the way hot tub owners care for their water by offering the first and only integrated salt water sanitizing system using diamond technology. The optional ACE salt water sanitizing system automatically generates five cleaners for an easier, more hands-free approach to water care. With the ACE system, you'll experience softer, cleaner water that looks feels and even smells great.