Customizable Options
When adding at hot tub to your backyard environment, the spa's appearance and extra features can be just as important as the hot water therapy itself.
Hotspring Custom Cabinets
With Custom Cabinets you can add a little bit more elegance to your new hot tub. Custom Cabinets are specifically designed to be surrounded by any style of exterior surface to blend with your outdoor environment.
Add a partial or full SpaStone surround to give the beauty of a natural-stone look. Or work with your landscape contractor to surround your Custom Cabinet spa with whatever material you desire.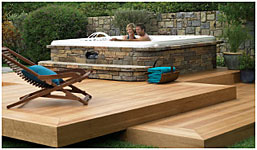 Entertainment Systems
Hotspring Spas are designed to be entertainment ready for any of their systems that will give you the ultimate experience in relaxation.
Hotspring Spas offer even more accessories for your new spa.
Would you like to see more?
Hotspring Neccessories