Spa Frog Mineral System

Tired of measuring and handling chemicals? With pre-filled mineral & bromine cartridges, spa frog takes the measuring and guessing out of chemical dosing. It can also reduce you bromine usage by up to 50%. The cartridges are easily adjusted to meet the sanitizing needs of virtually any size spa. Check out some of other benefits below!
Get Down Mineral Technology

Get Down
Up to 50% Bromine Reduction
Get Down
Work time for a more enjoyable spa experience
Get Down
Irritations like dry itchy skin, or faded swimsuits
Get Down
Excess chemical levels for a responsible solution to water care
Click Here for more information on why you should choose Spa Frog!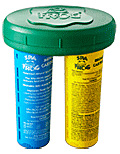 Floating Spa Frog
The blue Mineral Cartridge is replaced every 4 months.
The yellow Bromine Cartridge is replaced every 2-4 weeks depending on the use of the spa.
As with any system your PH, Alkalinity, and Calcium levels will need to be kept in check. You can do this by bringing a water sample in every month or so.